Christmas brought us a kaleidoscope of weather this year! We had planned an outdoor Christmas Dinner, as usual, with the aim of being outside in the cool for midnight. (Here the main celebration is midnight Christmas Eve/Christmas Day). The beef and the wine had been bought. During the day we worked, but as evening drew in so did the weather. Christmas Eve had started with temperatures in the 30s, but the sky clouded up and by early evening we were seeing almost hurricane force winds veering from North East to South West.  No chance of a barbecue outdoors! At 9 pm we lost power to the farm for the rest of the night, so we ate inside by candle and hurricane lamp.  And enjoyed an excellent  bottle of a local Malbec wine with the steak as branches, soil and loose items flew past the windows.
We later learnt that our tiny part of the country had been one of the worst hit by the storm and the Civil Defence had been called out to help with fallen trees, blocked roads, loss of power and flooding (an  irrigation canal overflowed as fallen trees had blocked it totally). Luckily we had no trees down on the farm, so it was back to work as normal.
I had said in an earlier post that farmers here are letting their fruit fall on the ground unharvested due to very low prices. A neighbour, without a pick-up, asked me to run an initial load of 600 kilos of apricots to the buyer for him. On the phone he had agreed a price of 85 cents a kilo, but when we arrived a few hours later the price had fallen to 60 cents a kilo (and finally to 50 cents a kilo). After paying harvesters 40 – 50 cents a kilo he would have received about AR$100 (£12) for a years work.
In order to help the small producer, the government started an initiative whereby the middle man was cut out. The idea was that the farmer harvested his fruit, bagged it up into 3 kg bags, took it to a central point and loaded it onto a government contracted lorry. The fruit would then be taken to cities or cool areas where you cannot grow fruit, and be sold out the back of the lorry at a lower price than in the shops – and that money, returned to the farmer, would be far more than he normally earned for his produce.
We decided not to join this new initiative. Just as well, because, due to a complete lack of co-ordination (and other factors), the lorry carrying nearly 20 tons of packed fruit ended up driving around the country until the fruit was spoiled. Finally nearly 18 tons of it, still neatly bagged up by the farmers, was dumped at the side of the road.
Full article can be found in the report here. Photo from radio963.com.
Our neighbours in the scheme were not paid for the fruit that they harvested and packed. A total loss for them.
Thank goodness we decided to dry our fruit on a home made drier and to turn a whole load into jam.
Many times I have commented on the incredible range of wildlife and insect life here. The other day I found this dead Rainbow Dung Beetle (Scarab) on the farm.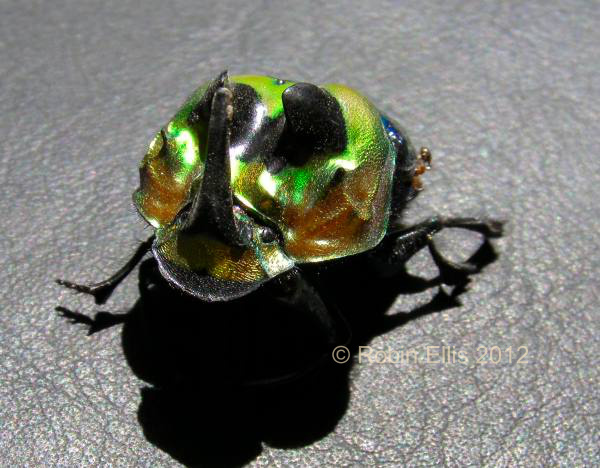 Rainbow Dung Beetle
Twice a year each of us has to clean a section of the public irrigation canal. It is a system that seems to work quite well, and here is our 200 meter section which has just been cleaned by me.
Back to work because tomorrow is forecast to be a hot day with temperatures of 42'C – which reminds me, better stock up on cold drinks and beer!