Falling in love with Malbec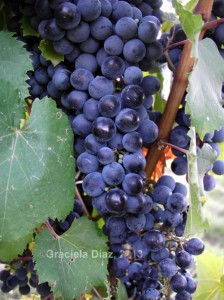 In September 2010 we planted the first 2 1/2 acres of our vineyard with Malbec vines.
Earlier this year I registered myself as a winemaker with the Argentine licencing authority (Instituto Nacional de Vitivinicultura) and was granted a licence to make wine and to sell my wine to the public.
In March we harvested our very first crop of grapes which we fermented and then nurtured and fretted over for 6 months. 
The INV inspector recently took samples of our wine for analysis and yesterday we received the results. Our Malbec wine passed the analysis with flying colours and I am now cleared to sell it. In fact the Inspector said it was an excellent wine. It is a dark, dark red (almost black) wine with a 14.1 degree alcohol content. Taste is of a slight hint of dark cherries with a smooth finish.
That same evening we had an offer from a wine buyer to purchase all of our 2013 vintage. It was a tempting offer, but in the end we decided to sell him only part of it and use the rest to build up a customer base for the future.
Unlike many wines, our 2013 Malbec is a totally natural wine. Fermented with the natural yeast on the grapes, no added acid, no added sugar, no added glycerine or preservatives. It is meant to be enjoyed whilst still young. So, we are feeling very content for the moment. Unfortunately we are not in a position to export (yet).
What now?
Now we have some serious work ahead of us. This year the vineyard should be in almost full production. Which means we need to increase our winemaking and storage facilities on the farm, whilst still maintaining the high quality that we achieved this year.
To all our friends out there, cheers!