When we bought the farm there was a small ruined building in a wonderful location close to a boundry to the public road. On our deeds the house was described as "Ruins without a roof".
Our interest in the "Casita" (and the history of our farm) was sparked by a comment by a neighbour that "an escaped murderer had once lived there, but as the owner of the finca never finished building the house for him, the murderer tore it down in a fit of rage".
A romantic story, but one which proved to be only partially true.
Other neighbours, including a local policeman, also gave us snippets of information, some of it conflicting, so we could not build up a reliable picture of the past history of this little house.
Add to this the fact that people here do not record what happened on the farms in the past and most of the buildings in the area are not even known about or registered by the municipality. So there are no local history records to research.
The only 'record' we have is a date in 1956 on the concrete entrance bridge.
Our original intention was to restore the shell of the Casita and turn it into a barn/farm office, but the standard of construction turned out to be so poor that we reluctantly decided to demolish it.  During the demolition we came across evidence of an earlier building just below ground level; cement floors, old fashioned bricks, coloured plaster work and evidence of a drain gulley. The bricks were very large and nothing like modern bricks.
Digging a ditch to fill our restored underground water storage tank for the Casita revealed more concrete floor and the edge of an old footing. At one point we found traces of what we believed to be a brick floor, possibly of a veranda.
Digging a few trial holes in a line in front of the Casita revealed more old footings and gave us an idea of the size of the previous house which was more than double the size of the casita.
A neighbour could not remember the original house on the site of the casita, but he remembered a large house where our woodland now stands. Another neighbour remembers courting a girl who lived in a house close to our main entrance. There is an area near the entrance which has traces of footings and earth where totally different plants grow. Also in the woodland there is an old, unused well. So it looked at that stage as if there were various houses in different locations on the farm in the past.
Then whilst we were building on the site of the old Casita a building inspector from San Rafael brought a colleague to our farm as he used to live there as a boy 50 years ago! At last we managed to answer some of the questions about the history of the farm, but not all.
The history so far:
In the early 1950s
Our farm was originally 20 hectares and, more than 50 years ago, it was owned by a family called Macdonaldo.  The father died and the farm was split into equal parts by the 3 sons and one daughter. Each child inherited 5 hectares.  The first 5 hectares, owned by a son, started at the fence with El Clavel and ended at the line of our Quince trees. In that section there was a large house close to the entrance. A new house was built close by but it was never lived in.  This section was planted with pear trees.
The second 5 hectares, owned by a son, started at the line of quinces and ended at what is now the boundary of our neighbour.  La casita did not exist then, instead there was a large adobe house roughly where we built our house. The man who came to visit used to live in that house as a young boy and he can remember grapevines covering most of that 5 hactares.
The third section was owned by a son, and the fourth section was owned by the daughter.
Apparently, roughly where there is a gap in our line of quince trees, there used to be an outdoor dance floor!
The layout of the irrigation systems and the placement of compuertas (sluice gates) supports this story of the farm being split up into 4 sections.
However there are still evidence of earlier and later occupation:
The oaks trees, manually planted in a line on the boundary, are between 80 and 100 years old.
Before the farm was 'abandonned' someone planted a wide range of trees around and in the woodland. Apple, Pomegranate, Fig, Mora, Pepper Tree, Alamo and native Acacia. We have also come across a Bay tree, beds of mint, and wild celery and fennel.
We have been told that a doctor once lived on the farm and planted a range of specimen trees and experimented with spraying water onto crops to prevent early frost.
There is no sign of a large house in the woodland, but we have not excavated there yet.
And the murderer? This story has been collaborated by, and added to, by three people now.
The man was in his 70s and used to live on the Isle Diamante. He had killed three people and escaped the police and came to live on the finca in the Casita. The walls had all been built and the roof was of wooden beams and plastic sheeting. He had a young woman living with him, kept chickens and rabbits and lived there with the farm owner's permission. What happened to him? He died. But he did not tear down the house in anger.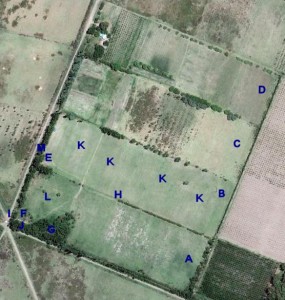 A – 5 Hectares owned by a son
B – 5 Hectares owned by a son
C – 5 Hectares owned by a son
D – 5 Hectares owned by the daughter
E – Site of the Casita
F – Site of an old house with a new one built next to it but never used
G – site where a large house used to be in the woodland according to a neighbour
H – Gap in membrillos where dance floor used to be.
I – Date on entrance bridge 1956
J – Small disused well (for house?)
K – Site of original vineyard. We have hit old posts / anchors whilst ploughing here.
L – Orchard where pears used to be. Two wild pears (from rootstock?) now grow there.
M – Evidence of a bridge across the hijuela. Known to have been removed by current neighbour.
Excavation details: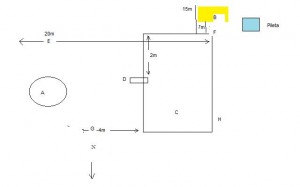 casita excavations
A – pile of earth with tar paper from roof
B – Thin cement floor found just below ground level when digging trench to fill pileta
C – Casita had thin well polished cement floor over most of the base.
D – Footings found when removing casita wall
E – Trial digs showed footings to be up to 20m from edge of casita.
F – Area where brick floor (veranda?) was found.
G – Remains of thin brick wall, just above ground for 4m and painted white on the inside face
H – Bricks painted yellow inside and red outside faces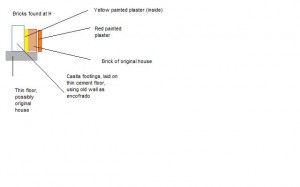 Update November 2012:
In our woodland we have come across what appears to be a buried pile of gravel and a few buried bricks.
Opposite and slightly closer to the entrance gate we have excavated and found more footings as well as a raised area where the vegetation is totally different to the rest of the farm. Two more possible house or building sites from the past.